Accepted "wisdom" is that Rainbow Lorikeets are not sexually dimorphic.
To the keen eye, however wild Rainbow Lorikeets *are* sexually dimorphic.
Dimorphism can clearly be seen by observing mated pairs of wild Rainbow Lorikeets.
You will notice that in almost all mated pairs, that the colouring of the breast is subtly different.
The male will generally tend to have more orange on his breast, extending further toward the wings than the female. He will also generally have less yellow on his body.
The head of the male is also a slightly different shape, slightly squarer to that of the female.
The female may be of slightly slighter build and will have more yellow intermingled with the orange of her breast.
The blues of the female will generally tend to be a lighter hue, sometimes seeming to be tinged with grey whilst the males have a deep navy colour to them.
This image is a perfect example of the sexual dimorphism: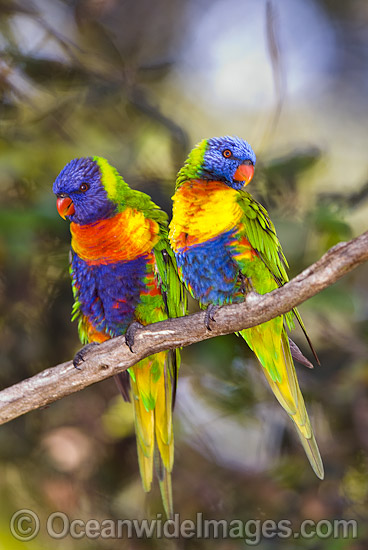 In the image above, the male is on the left, the female on the right.
How do I know this?
Spending 40 years feeding wild Rainbow Lorikeets and several years as a carer for them.
When it comes to sexual dimorphism in Rainbow Lorikeets that have been selectively bred however, the above may not be an accurate means by which to determine their sex.
Captive bred birds tend to be selectively bred for the traits that humans find desirable; and in Rainbow Lorikeets, that means bright orange breasts and a deep blue undercarriage.